Synot Games Details
Synot Games Details

| | |
| --- | --- |
| Website | www.synotgames.com |
| Founded | January 2019 |
| Online Slots | |
| Live Casino | |
| Roulette | |
| Blackjack | |
| Virtual Sports | |
| Bingo | |
| Scratchcards | |
Synot Games Details
Added: 22nd January 2023 Updated: 22nd January 2023
Synot Games Featured Casinos
Compare 14 Synot Games Casinos
Synot Games Overview
Synot Games is a well-established software supplier in the gaming industry available at new casinos in the UK and Euro markets, known for its high-quality content and commitment to creating immersive player experiences. In this review, we will take a closer look at the company's offerings, team, and overall performance to provide a comprehensive understanding of its capabilities as a gaming software supplier.
Quality Over Quantity

One of the standout features of Synot Games is the quality of its content. Their portfolio of games is diverse, featuring both classic and modern titles that cater to a wide range of players. They are known for their attention to detail and ability to create games that are both engaging and visually stunning. The games are regularly updated with new features and improvements, ensuring that players always have something new to look forward to.
Team and Experience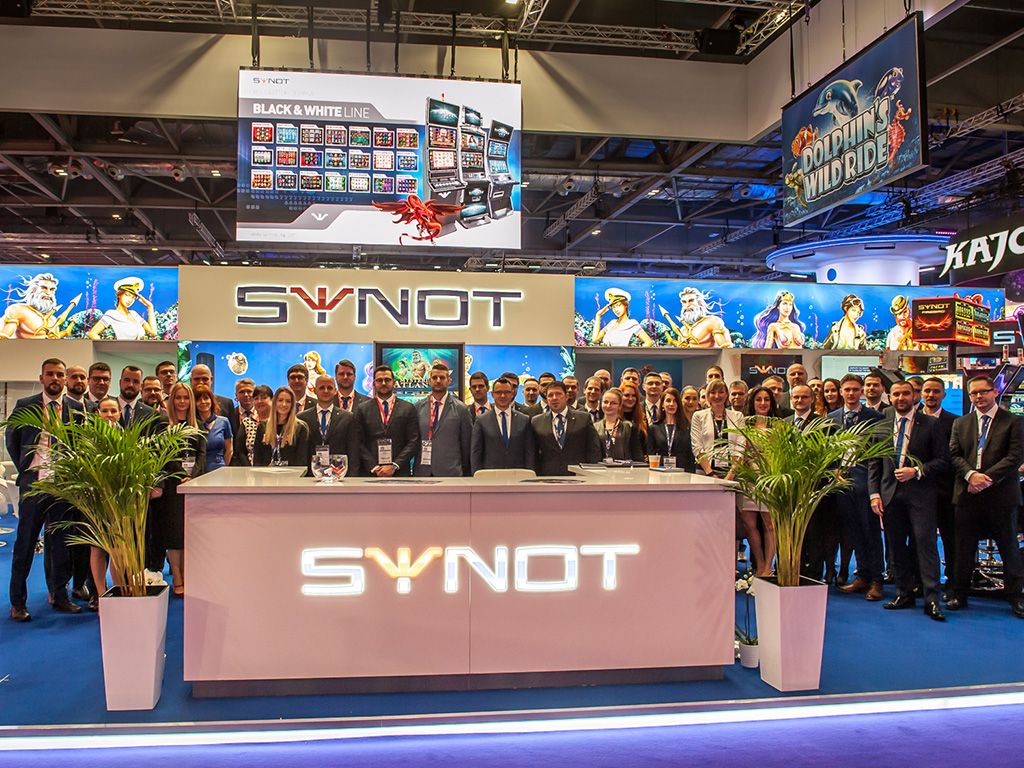 Synot Team at ICE 2020
Another key strength of Synot Games is its team of highly skilled and experienced professionals. They have a proven track record of delivering games on time and on budget, which is a testament to their ability to manage and execute projects effectively. The team is made up of experts in various fields, including game development, design, and marketing, which allows them to provide a complete package of services to their clients. They are also known for their flexibility and willingness to work closely with clients to understand their unique requirements and tailor their services accordingly.
Performance and Reputation
Synot Games has a strong reputation in the industry for providing high-quality gaming content and delivering on its promises. They have a history of successful projects and satisfied clients, which is a testament to their performance and reliability. They also have a strong online presence, with a well-maintained website and active social media accounts, which helps them to connect with players and stay on top of industry trends.
Conclusion
Overall, Synot Games is a valuable partner for any company looking to expand its gaming offerings. They are a reliable and reputable software supplier with a diverse portfolio of high-quality games, a skilled and experienced team, and a proven track record of performance and customer satisfaction. They are a great choice for anyone looking for a partner who can help them to create engaging and immersive player experiences.
93 Synot Games Games
Synot Games Games RTP List

Game

(Click to sort ascending)

Release Date

(Click to sort ascending)

RTP%

(Click to sort ascending)


Aladdin and the Magic Carpet Slot
17th February 2023
85.34%

243 Mexicana
6th February 2023
96.01%

27 Joker Fruits
7th February 2023
96.08%

27th Cabaret
8th February 2023
96.01%

6 Fruits
9th February 2023
96.07%

6 Fruits Deluxe
10th February 2023
96.12%

8 Flowers
11th February 2023
96.07%

81 Joker Fruits
12th February 2023
96.02%

81 Vegas Multifruits
13th February 2023
96.02%

81st Cabaret
14th February 2023
96.02%

88 Pearls
15th February 2023
95.94%

Aladdin And The Golden Palace
16th February 2023
96.18%

Alchemist's Gold
18th February 2023
95.73%

Amazon's Wonders
19th February 2023
96.18%

Armed and Wild
20th February 2023
96.02%

Aztec Jaguar
21st February 2023
96.08%

Blazing Ice
22nd February 2023
96%

Book of Secrets
23rd February 2023
96.05%

Book of Secrets 6
24th February 2023
96.02%

Book of Secrets Extra
25th February 2023
96.07%

Buffalo Hunt
26th February 2023
96.06%

Coins of Luck
27th February 2023
96.13%

Corsair Queen
28th February 2023
95.95%

Diamondz
1st March 2023
96.15%

Dice Rush
2nd March 2023
95.99%

Dicey Fruits
3rd March 2023
96.08%

Dolphins Wild Ride
4th March 2023
96.02%

Double Hot
5th March 2023
96.19%

Dragons of Fortune
6th March 2023
96.04%

Easter Fortune
7th March 2023
96.04%

Eldorado
8th March 2023
96.04%

Fire Spell
9th March 2023
95.91%

Fire Witch
10th March 2023
96.01%

Firebird 27
11th March 2023
95.96%

Firebird Double 27
12th March 2023
96.09%

Flip the Chip
13th March 2023
96.01%

Fruit Awards
14th March 2023
96.02%

Fruiti
15th March 2023
96%

Fruiti X
16th March 2023
96.28%

Fruiti XL
17th March 2023
96.08%

Fruiti XX
18th March 2023
95.79%

Fruiti XXL
19th March 2023
96.01%

Fruits Go Multiply
20th March 2023
96.01%

Fruits'n'Fire
21st March 2023
96.19%

Fruity Gold
22nd March 2023
96.2%

Fruity Gold 81
23rd March 2023
96.01%

Gem-O-Rama
24th March 2023
96.45%

Goblinions
25th March 2023
95.95%

Gold O'Clock
26th March 2023
96.17%

Golden Myth
27th March 2023
95.73%

Grand Gems
28th March 2023
96.01%

Harlequin Dice
29th March 2023
96%

Hell Bars
30th March 2023
96.06%

Hell Fruits
31st March 2023
96%

Hell Mania
1st April 2023
96.06%

Hot Africa
2nd April 2023
96.07%

Hunter's Spirit
3rd April 2023
96%

Jack and the Mystery Monsters
4th April 2023
96.2%

Jewels Fortune
5th April 2023
96%

Joker 40
6th April 2023
96%

Joker 5
7th April 2023
96.1%

Joker 50 Deluxe
8th April 2023
96.19%

Joker's Five
9th April 2023
96.04%

Legends of the Colosseum
10th April 2023
96.12%

Lucky Elements
11th April 2023
95.98%

Lucky Pot
12th April 2023
96.01%

Masters of Eclipse
13th April 2023
96.06%

Mirror Shield
14th April 2023
95.63%

Monkey Slots
15th April 2023
95.91%

Moonlight Fortune
16th April 2023
96.1%

Mysterious Atlantis
17th April 2023
96.24%

Neon Fever
18th April 2023
96.05%

Pixel Reels
19th April 2023
96.13%

Reel Hot Respin
20th April 2023
96.66%

Reel Sheriff
21st April 2023
96.4%

Respin Joker
22nd April 2023
96.13%

Respin Joker 243
23rd April 2023
96.03%

Respin Joker 81
24th April 2023
96.01%

Rich Pirates
25th April 2023
96%

Rock and Roll Rooster
26th April 2023
96.1%

Skull Bonanza
27th April 2023
96.14%

Solar God
28th April 2023
96%

Sweet Dream
29th April 2023
96%

Sync Spin
30th April 2023
96.11%

The Wild Job
1st May 2023
96.07%

Tiki Princess
2nd May 2023
96.02%

Vampire Bride
3rd May 2023
96.06%

Wandering Wild
4th May 2023
96.06%

Wild Blooms
5th May 2023
96%

Wild Circus 256
6th May 2023
95.95%

Wild Warp
7th May 2023
96.05%

Xmas Secret
8th May 2023
96.07%

Zeus Wild Thunder
9th May 2023
96.04%