Join Thrills Casino and enjoy a festive season of bonuses and free spins with the Thrills Christmas Bonus Calendar for 2016
Most online casinos can't wait to have you unwrap your presents, so they release their entire Christmas calendar at once. But Thrills Casino is tantalizing us by only releasing one part of their Xmas calendar at a time. Given some of the rewards that are on Thrills' calendar, it's worth the wait!
That said, let's check out what promos were on the first part of the calendar and discuss what you can expect from the future installments that will be released.
The 2016 Thrills Casino Christmas Calendar
Just to give you a taste of what to expect with the Thrills Casino Christmas promotions this year, we'll review what's already been offered plus what's to come this week.
They kicked things off on November 29 by holding a 'Lightning Fast Sunday' promotion, which allowed you to rack up quick wins on the Bonus-O-Meter race with the Lightning Multiplier. The same promo was offered on December 6 too.
November 30 2016, Thrills gave any depositor 10 free spins on Wild North slot, while 'loyal players' received 20 free spins.
December 1 2016 again awarded free spins, this time delivering 15 spins on Gemix to anybody who deposited at least £20. Loyal players received 10 free spins on Gemix for every £100 they deposited (i.e. 100 spins for £1k deposit).
December 2 2016 -Thrills gave out a 50% reload bonus worth up to £50 to depositing players. Active players received a 75% match bonus worth up to £150.
December 3 2016 - any referrals you made got 50 free spins on Starburst slot when signing up through the Thrills 'Sharing is Caring' promotion.
December 4 2016 saw those who deposited at least £25 get 10 free spins on Gemix, while active players received 50 spins.
December 5 2016 featured a £2,500 Raffle promotion, thus ending that portion of the calendar.
December 6 2016 fast approaches which offers 25 lucky winners a Thrill Spin that takes you straight into a bonus round with a €2 euro bet where the possibilities for winning big are huge. Any player that wagers at least €50 on the Tuesday will get an entry in to the prize draw for a Thrill Spin allocation with 25 winners drawn on Wednesday at 3pm CET.
December 7 2016 Wednesday Reload Bonus is a segmented Christmas bonus giving the most loyal of Thrills players a 50% Reload Bonus up to €250 and for everyone else a reload bonus of 50% up to €25. UK players will need to wager their deposit at least 5 times to qualify.
December 8th 2016 offers you the exclusive Thrills Riddles promotion. There are free spins hidden in the land of Thrills with all players getting the opportunity to uncover them up to three times each. The first 500 players to solve the riddles will claim the prizes of 10 Free Spins for each riddle solved.
December 10th 2016 Saturday Lightning Tournament – everyone loves a Thrills Bonus-O-Metre race and this Saturday the Lightning Multiplier will be active all day helping you advance through the bonuses at double speed. Win bonus rounds in the selected games and you'll uncover treasure chests in the Bonus-O-Metre giving you more free bonuses.
December 11th 2016 is suit up Sunday! This promo is all about Live Casino and specifically live blackjack. Show off your table skills with every suited Blackjack you draw paying you out an extra €50 in bonus cash the next day. Bet at least €5 per hand to qualify and play to hit a suited Blackjack hand to earn your bonus.
A Look Ahead at Thrills Christmas Promotions
What's exciting is that there are still three more parts of Thrills' Christmas calendar to be released.
Based on what we've seen so far, you can expect more free spins, reload bonuses, and raffles. When free spins are given out, it'll likely be on a different game than Gemix and Wild North slot since these were used heavily in the first leg of promos.
What we really like about Thrills' Christmas calendar is how good of a job they do at spreading out promos. We've seen some calendars that only offer free spins, which is fine, but it's nice to have some variety.
This being said, you can look forward to a nice variety of promos at Thrills over the holiday season.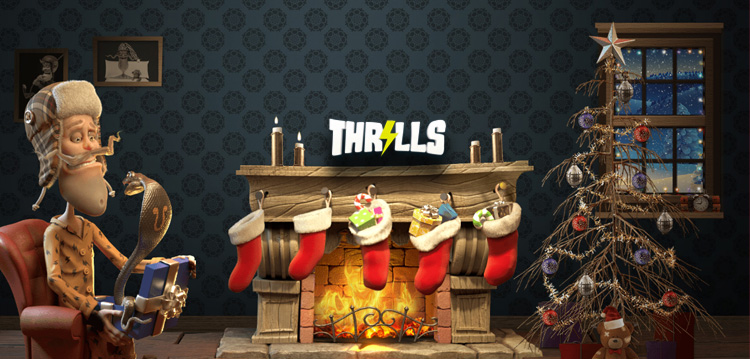 Thrills Casino Launches its Christmas Bonus Calendar for 2016
5th December 2016
Thrills Casino
Betit Operations Ltd
Featured Casinos

Not available for players in United States

50 Spins

50x Spins Winnings.
18+ Only. Terms Apply. BeGambleAware.

Not available for players in United States

100% up to £300
+ 300 Spins

40x Bonus Amount. 40x Spins Winnings.
18+ Only. Terms Apply. BeGambleAware.

Not available for players in United States

Not available for players in United States

300% up to 1000€
+ 100 Spins

20x Deposit & Bonus Amount. 40x Spins Winnings.
18+ Only. Terms Apply. BeGambleAware.

Not available for players in United States

50 Spins

20x Spins Winnings.
18+ Only. Terms Apply. BeGambleAware.

Not available for players in United States

100% up to £100
+ 100 Spins

35x Deposit & Bonus Amount. 35x Spins Winnings.
18+ Only. Terms Apply. BeGambleAware.

Not available for players in United States

100% up to £300
+ 100 Spins

35x Deposit & Bonus Amount. 35x Spins Winnings.
18+ Only. Terms Apply. BeGambleAware.

Not available for players in United States

100% up to £300
+ 50 Spins

35x Bonus Amount. 35x Spins Winnings.
18+ Only. Terms Apply. BeGambleAware.

Not available for players in United States

100% up to £100
+ 300 Spins

40x Deposit & Bonus Amount. 40x Spins Winnings.
18+ Only. Terms Apply. BeGambleAware.

Not available for players in United States

Not available for players in United States

100% up to £800
+ 100 Spins

35x Bonus Amount. 35x Spins Winnings.
18+ Only. Terms Apply. BeGambleAware.

Not available for players in United States

Not available for players in United States

400% up to 800€

40x Deposit & Bonus Amount.
18+ Only. Terms Apply. BeGambleAware.

Not available for players in United States

400% up to 1500€
+ 150 Spins

40x Deposit & Bonus Amount. 20x Spins Winnings.
18+ Only. Terms Apply. BeGambleAware.

Not available for players in United States

100% up to £200
+ 100 Spins

40x Bonus Amount. 40x Spins Winnings.
18+ Only. Terms Apply. BeGambleAware.

Not available for players in United States

150% up to £100
+ 150 Spins

40x Bonus Amount. 60x Spins Winnings.
18+ Only. Terms Apply. BeGambleAware.

Not available for players in United States

100% up to £200
+ 200 Spins

40x Bonus Amount. 40x Spins Winnings.
18+ Only. Terms Apply. BeGambleAware.

Not available for players in United States

100% up to £200
+ 100 Spins

40x Bonus Amount. 40x Spins Winnings.
18+ Only. Terms Apply. BeGambleAware.

Not available for players in United States

100% up to £300
+ 300 Spins

40x Bonus Amount. 40x Spins Winnings.
18+ Only. Terms Apply. BeGambleAware.

Not available for players in United States

100% up to £200
+ 50 Spins

40x Deposit & Bonus Amount. 40x Spins Winnings.
18+ Only. Terms Apply. BeGambleAware.

Not available for players in United States

Not available for players in United States

Not available for players in United States