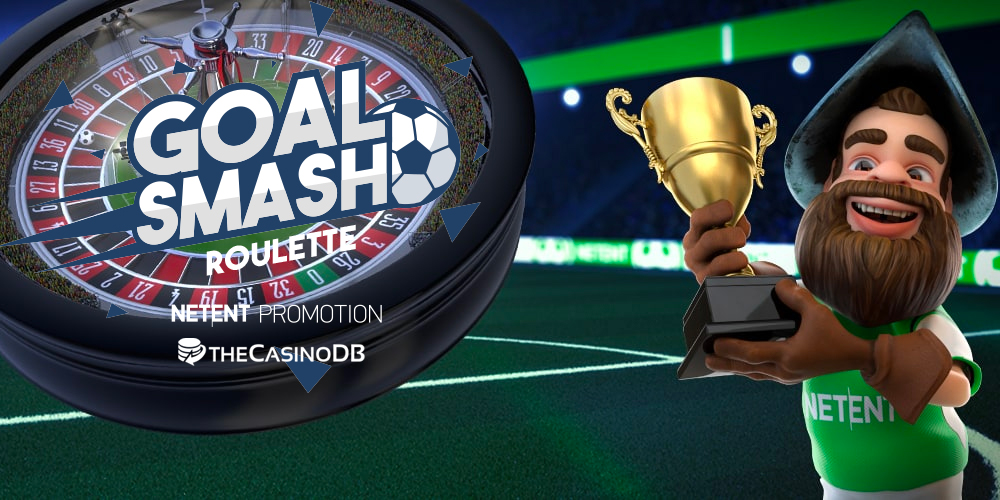 NetEnt Prepares for 2018 FIFA World Cup with Innovative Goal Smash Promotion
NetEnt Prepares for 2018 FIFA World Cup with Innovative Goal Smash Promotion
---
NetEnt never misses an opportunity to reward its loyal customers. This time, the provider is preparing them for an unforgettable football adventure that should provide for a better FIFA World Cup experience. Namely, from 14th of June to 15th of July football fans worldwide will enjoy the prestigious tournament, which this year takes place in Russia. As top national teams, such as the ones of Argentina, Brazil and England try to reach the top, fans will be able to both track results and play their favourite casino games at NetEnt powered casinos.
After the launch of the World Cup Free Round Widget for all their impressive online slots, NetEnt has announced the launch of a brand-new Live Sports Roulette and a generous Goal Smash Roulette promotion. The promotion will be live during the 2018 FIFA World Cup and boasts with a massive prize pool of €75K in cash given via prize draws and daily giveaways. Players will be able to take part using both desktop and mobile devices, meaning they can win extra cash virtually anywhere and anytime.
Brand New Live Sport Roulette
Before diving deeper into the thrilling promotion, it is smart to pay a bit of attention to the Live Sports Roulette first. This live dealer table is reportedly going live the same day as the start of the World Cup i.e. 14th of June. The game will be available throughout the tournament only and it will offer a unique playing experience. Namely, thanks to a live-score system, those enjoying Goal Smash Roulette will be able to track scores as well as get real-time updates as they play.
Moreover, the fun is going to be boosted by the dealers too as they are expected to comment on the games, provide statistical data and generally maintain a positive playing atmosphere. Other useful information related to the FIFA World Cup featured at the exciting Goal Smash Roulette table include group tables, scheduled games and so on. Just like most of the rest NetEnt live dealer tables, this one will support mobile play. Therefore, players can both enjoy roulette and track the progress of their favourite team on the move.
Prepare for a Truly Immersive Football Experience Alongside Live Dealer Action
Commenting on NetEnt's behalf was the company's chief product officer Henrik Fagerlund. He highlighted how the latest live dealer table "offers a truly immersive football experience" to customers while they get to enjoy live dealer action. Naturally, he mentioned that as the start of the World Cup is getting closer, introducing the Goal Smash Roulette has had the perfect timing. As the most attractive features of NetEn's latest promotion Fagerlund pointed out the chance to win daily cash prizes and, at the same time, staying on top of all the football action during the World Cup.
€75K In Cash Prizes on the Offer
So far, the Goal Smash promotion has been only announced via a video and not many details are known. Nevertheless, what the provider has revealed so far is the amazing prize pool of €75K in cash prizes. The tournament will, apparently, be divided into a total of 5 stages; each offering a better prize pool than the one preceding it. Stage one boasts with a modest prize pool of €5K in prizes. The next stage is more exciting thanks to its prize pool of €10K, whereas the third stage offers attractive €15K in prizes. Stage four is getting close to driving players crazy with a prize pool of €20K, while the highest prize pool of €25K is reserved for the fifth and last stage. Players can win cash in two ways; the first is daily cash prizes, while the second is taking part in prize draws.
How to Join the Promotion?
All the previous information is probably useless unless you know how to join this amazing promotion. Well, for starters, you must register with a NetEnt powered casino, as only such gambling destinations will feature the Goal Smash promotion. Recommended NetEnt casinos to have in mind include Casino Wishes, Rise Casino and Casino Heroes. Naturally, you must make sure that the provider not only features NetEnt games, but also NetEnt live dealer tables. Namely, in order to qualify for the Goal Smash, you will have to play at the Goal Smash Roulette live dealer table.
So, how to win? NetEnt requires that anyone wanting to take part in the promotion must wager at least €20 on Goal Smash Roulette. By doing this, players will be given a €5 bonus plus a prize draw ticket. It is still unknown whether players will be able to collect multiple prize draw tickets; however, considering that so far this has been allowed, it will probably be the same for this promotion as well. As it was already mentioned, the promotion starting date is 00:00 on 14th of June, while it ends at 23:59 on 15th of July (CET).
While you're waiting for the promotion to start, you can enjoy a range of football themed video slots. For example, NetEnt offers the Football: Champions Cup slot on which players can take part in penalty shootouts and win lots of free spins. Another option is Microgaming's Shoot! This video slot includes football legends from various national football teams. The pick's most exciting feature is the Trade'Em Bonus that grants cash prizes, free spins and multipliers.
About the Company
NetEnt is a well-established online casino software provider. This company was established in 1996 in Scandinavia and quickly managed to build a great reputation for itself. Players seem to love NetEnt thanks to its impressive top-class games, creative special features and high payout rates.
Moreover, this company can boast with some of the industry most popular progressive jackpot games such as Hall of Gods and Mega Fortune. Widely known as a provider that always tries to treat players, its games often come with generous free spin promotions. Therefore, NetEnt's high-quality products can be found at more than 200 online casinos worldwide.