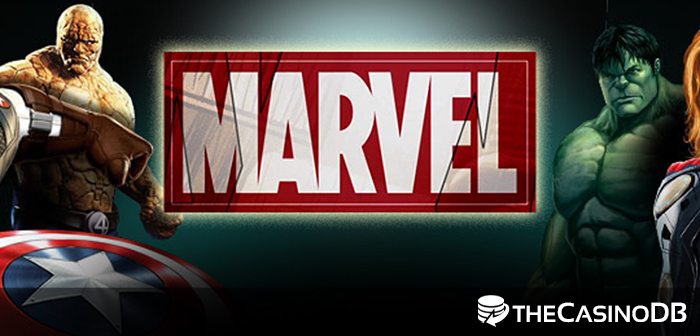 Marvel Slots: A Fond and Final Farewell
Marvel Slots: A Fond and Final Farewell
Slots News
30th March 2017
---
As of the 31st March 2017 Marvel Slots will be no more as Playtech announced that their agreement with the heavy weight comic book franchise comes to an end and with it is the demise of the much loved range of progressive slot games that have been a smash hit with slots game enthusists the world over.
Some might disagree that Marvel is the biggest name in comics, but nobody will disagree that it is one of the key brands in this industry. Ever since it was founded, before WWII and especially from the 1950s onwards, millions of people all over the world have been growing up with their stories and their superheroes.
Publisher with a Cult Following
It would take a lot of time and space to describe and talk in detail about the most famous Marvel characters and it is also a bit rather obsolete, since there's hardly anyone who isn't familiar with Spider-Man, Captain America, Doctor Strange, Wolverine and their adventures.
Marvel comics became almost a focal point of youth culture in the Western World and soon films, TV shows and later video games were based on them. One clear indicative of how huge Marvel became is the fact that the company was purchased by The Walt Disney Company for over $4 billion in 2009.
Films based on Marvel comics have been filmed ever since 1944, and there have been a number of video games, television shows, live shows and there are even few Marvel theme parks.
Latest Marvel Films
As it was mentioned above, Marvel-themed films have been recorded for almost 80 years now, but there has been a serious proliferation in the past few years. In 2016 Marvel Studios released Doctor Strange, an Oscar nominated film, acclaimed by critics and viewers. Moreover, X-Men: Apocalypse, Captain America: Civil War and Deadpool have also been released.
2015 was also a productive year, with titles like Fantastic Four and Ant Man. Versions of X-Men, Captain America and Spider-Man were published in 2014. We can expect even more Marvel-themed films in the upcoming years. Logan has already been released and in 2017 alone we can expect Thor: Ragnarok, Spider-Man: Homecoming and the second volume of the Guardians of the Galaxy.
How Marvel Slots Came about
Playtech is the company that has the right to produce and release Marvel-themed slots nowadays. Playtech is one of the oldest and most reliable casino software providers and its games of high-quality are hugely popular among players and available throughout a range of casinos.
In the past there were other providers that also produced, most notably Cryptologic, a company that became part of Amaya in 2012. Cryptologic singed a deal with Marvel in 2005 and it has produced several Marvel-themed slots. Cryptologic Marvel slots are all connected to a progressive jackpot which allows players to earn massive amounts of money.
Cryptologic developed the following Marvel-themed slots Thor, The Incredible Hulk, Fantastic Four and The Amazing Spider-Man. In 2010, Marvel signed a deal with Playtech and this provider was a bit more active than Cryptologic. Playtech has released a series of Marvel-themed slots. At many Playtech-powered online casinos Marvel slots are marked with a special Marvel symbol which signifies that the game is part of the series of slots produced under the Playtech- Marvel deal.
The Top 10 Marvel Slots
In a homage to the much loved a celebrated range of Marvel slots loved by many we want to remember the 10 best Marvel online slots that will be no more. Over the years Playtech released a number of great Marvel themed slots games to new casino sites around the world and despite the collection not being the largest we've ever seen it's still bee difficult to narrow down to a definitive top 10 but here goes nothing:
We will start with Playtech's Fantastic 4, a 5-reel slot which featured 25 pay-lines before it was enhanced and the 50 pay-line version was introduced. This game can be played with as little as 50p and the maximum wager is £250. The jackpot is 10,000 coins.
Cryptologic's The Incredible Hulk features 5 reels and 9 pay-lines, a progressive jackpot and an RTP percentage of 94.50%.
Playtech's Punisher is a 5-reel, 20 pay-line slot featuring the Punisher (who else?) where the players can win a maximum amount of 10,000 coins. The Punisher slot is particularly praised for its soundtrack.
Iron Man 2 came after the Iron Man slot and it is based on the film of the same name. Iron Man 2 exceeded the popularity of its predecessor and it was the main motivation for Playtech to develop a third sequel.
Iron Man 3 is the latest of the Iron Man slots series and it has superior graphics and other features not only compared to its predecessors, but also to many other slot games. Iron Man 3 has 25 pay-lines and it can be played with as little as 25p.
Blade is perhaps the most popular vampire-like character of all times and the film Blade achieved a cult status. Playtech's Blade has 5 reels and 20 pay-lines and it can be played with as little as 1p per pay-line.
Elektra proves that women can be superheroes too and Playtech's slot of the same name is as popular as the character itself. Elektra has 20 pay-lines and it is linked to the Marvel progressive jackpot, which makes the game even more interesting.
The 5-reel, 20-pay-line slot by Playtech allows you to follow the Daredevil on his adventures and win up to 5,000 coins. This game can be played with as little as 1p and up to £1,000.
One cannot complete a list of best Marvel-themed slots without listing Captain America: The First Avenger, a game with thrilling multipliers, free spin bonuses and other features.
Last but not least we have Playtech's Thor: The Mighty Avenger, a game that has 30 pay-lines and a maximum jackpot prize of 5,000 coins.
Future of Super Hero Themed Slots
It's not all doom and gloom for super hero gambling fans out there, unless you have any serious gripes against the DC Comics range that is! There are still plenty more choices out there including games starring charachters such as Batman, Superman the Green Latern and more.
Only time will tell if we'll see a return of the Marvel Super Hero themed online slots, whether this is just a temporary move from Marvel or a switch to a new developer or whether they are out of the online casino game for good remains to be seen. Either way we'll let you know and we'll be sure to bring you previews of any new exciting super hero theme slot games to come.
Featured Casinos

100%

up to

£250


+ 100

Spins

Not available for players in United States

100% up to £300
+ 100 Spins

35x Deposit & Bonus Amount. 35x Spins Winnings.
18+ Only. Terms Apply. BeGambleAware.

Not available for players in United States

100% up to £100
+ 50 Spins

35x Bonus Amount. 35x Spins Winnings.
18+ Only. Terms Apply. BeGambleAware.

Not available for players in United States

400% up to £1000

45x Bonus Amount.
18+ Only. Terms Apply. BeGambleAware.

Not available for players in United States

100% up to £50
+ 100 Spins

35x Bonus Amount. 35x Spins Winnings.
18+ Only. Terms Apply. BeGambleAware.

Not available for players in United States

100% up to £100

40x Bonus Amount.
18+ Only. Terms Apply. BeGambleAware.

Not available for players in United States

400% up to £2000

50x Bonus Amount.
18+ Only. Terms Apply. BeGambleAware.

Not available for players in United States

Not available for players in United States

200% up to £300
+ 100 Spins

35x Deposit & Bonus Amount. 35x Spins Winnings.
18+ Only. Terms Apply. BeGambleAware.

Not available for players in United States

100% up to 100€

60x Bonus Amount.
18+ Only. Terms Apply. BeGambleAware.

Not available for players in United States

100% up to £123

50x Bonus Amount. 50x Spins Winnings.
18+ Only. Terms Apply. BeGambleAware.

Not available for players in United States

500 Spins

65x Spins Winnings.
18+ Only. Terms Apply. BeGambleAware.

Not available for players in United States

100% up to £50
+ 100 Spins

35x Bonus Amount. 50x Spins Winnings.
18+ Only. Terms Apply. BeGambleAware.

Not available for players in United States

Not available for players in United States

100% up to £100
+ 300 Spins

40x Deposit & Bonus Amount. 40x Spins Winnings.
18+ Only. Terms Apply. BeGambleAware.

Not available for players in United States

50 Spins

20x Spins Winnings.
18+ Only. Terms Apply. BeGambleAware.

Not available for players in United States

121% up to £300

35x Bonus Amount.
18+ Only. Terms Apply. BeGambleAware.

Not available for players in United States

Not available for players in United States

100% up to £25
+ 25 Spins

35x Bonus Amount. 35x Spins Winnings.
18+ Only. Terms Apply. BeGambleAware.

Not available for players in United States

100% up to £300
+ 200 Spins

35x Bonus Amount. 35x Spins Winnings.
18+ Only. Terms Apply. BeGambleAware.

Not available for players in United States

100% up to £200
+ 200 Spins

40x Bonus Amount. 40x Spins Winnings.
18+ Only. Terms Apply. BeGambleAware.

Not available for players in United States

100% up to £300
+ 300 Spins

40x Bonus Amount. 40x Spins Winnings.
18+ Only. Terms Apply. BeGambleAware.

Not available for players in United States

100% up to £300
+ 300 Spins

40x Bonus Amount. 40x Spins Winnings.
18+ Only. Terms Apply. BeGambleAware.

Not available for players in United States

100% up to £100
+ 50 Spins

40x Deposit & Bonus Amount. 40x Spins Winnings.
18+ Only. Terms Apply. BeGambleAware.

Not available for players in United States

100% up to £100
+ 25 Spins

35x Deposit & Bonus Amount. 35x Spins Winnings.
18+ Only. Terms Apply. BeGambleAware.

Not available for players in United States

50 Spins

50x Spins Winnings.
18+ Only. Terms Apply. BeGambleAware.

Not available for players in United States

Not available for players in United States

Not available for players in United States

Not available for players in United States

150% up to £100
+ 150 Spins

40x Bonus Amount. 40x Spins Winnings.
18+ Only. Terms Apply. BeGambleAware.

Not available for players in United States