Fantasino Casino is a brand new online casino launched in March 2017 bringing together the fantasy world of gamification and online gambling to form a new type of online casino.
We caught up with one of the founders if this interesting and exciting new online casino to find out a little bit more about what Fantasino Casino has to offer for players and casino fans.
First off, please tell us a bit about you and your role at Fantasino.
My name is Andrés Blanco, I'm one of the founders and I live in Costa Rica. I've been involved in the sportsbook and casino industry for the past 13 years. With one of my best long time friends, we decided to create our own view of what a different casino could be and started planning this project for the past 18 months. Now I'm the Operations Manager, planning and overviewing the project along with all our teammates.
Let's start with the Name. How did you guys come up with the name Fantasino for your new online casino?
We always wanted to create a casino with a theme. Something that would allow us incredible flexibility in design and creative ideas for the future. After several weeks of brainstorming, we decided to choose Fantasino, as a combination of Fantasy and Casino. This name will allow us create a vast concept around it: wonderful animated 3D Fantasy characters, an entire Fantasy World to interact, plus all the other concepts we have in the pipeline. If we would have chosen another "serious" or "simple" name, it would have tied us to that limited idea. From the very beginning, we wanted total flexibility.
Tell us more about Fantasino, what was your inspiration and what makes this a unique online casino?
After having the initial concept of a Fantasy-oriented casino, now we needed to refine our business strategy. I've always been a fan of Gamification and I believe everyone has a weakness towards video games. I have wonderful memories playing my favourite Super Nintendo video games as a little kid. After several weeks of learning the theory behind gamification, gathering ideas with one of my best friends (who's a passionate gamer) and studying the competition, we came up with an improved concept of gamification, in which we actually make the website a real game. It's not a matter of simply giving badges with no purpose; we wanted players to be able to interact with the website, like a video game. In our team we have our incredibly talented Head of Design, who's behind all the 3D characters' designs and the magnificent creations for Fantasy World.
What is the Fantasy World all about at Fantasino and how does it work?
The innovative Fantasy World concept is divided into 3 main sections: Trebol, Quests and World. The Trebol represents each customer: players accumulate Magic Tokens by simply playing casino games, which allow them to purchase accessories for their Trebol and dress it with unlimited options. Some accessories can earn them Free Spins or other benefits. Quests are video game-like casino missions, inspired in Escher illustrations, where Trebols find their path to the end and get rewarded along the way. Finally, the World is a customizable Fantasy World built by each customer. This last section will be a Locked feature, until customers advance through the first Quests levels.
For new players joining Fantasino what bonuses are on offer at this new casino?
We have an incredible Welcome Package for the first four deposits: 1st deposit 100% Bonus up to €100 + 100 Free Spins in Starburst. 2nd deposit 50% Bonus up to €150. 3rd deposit 50% Bonus up to €200. And 4th deposit 25% up to €250.
We've talked about the welcome bonus offers available for new players at Fantasino but what can players expect after that?
The idea is that as customers progress through the Fantasy World, they will receive rewards for completing missions (Free Spins, Free Money, Special Deposit Bonuses, Cash Backs, accessories for their Trebol or World, etc.). At higher levels, rewards will continue getting better.
Where is the Fantasino team based?
Our team is based in Costa Rica, which is a gambling mecca, full of online sportsbooks and casinos. Besides the gambling experience, we pride ourselves of our beautiful country and culture, being considered many times as one of the happiest countries in the world. We hope to reflect this with all our customers and provide a unique Customer Service. We'll even give away an All-Inclusive Vacations trip to a lucky winner every 3 months to visit Costa Rica: we're famous for our crystal clear beaches, vast rainforests, amazing volcanoes, etc. That's why many Hollywood celebrities have properties in our country.
You've chosen Every Matrix to power your online casino, how did you decide which provider to use?
We decided to choose EveryMatrix as our provider based on their experience and platform capabilities. They have been in the industry for a very long time and proved themselves as a solid partner for our business.
What kind of games will be on offer for players at Fantasino?
We'll be offering some of the best casino vendors: NetEnt, Evolution Gaming, Stakelogic, Leander, Habanero, NYX, Playson, Spigo, IGT, Endorphina, Booming Games, Spinomenal, plus many more. Other top vendors like Microgaming and Play'n'Go will be added very soon.
Looking forward beyond the new casino launch, what's next for Fantasino for the future?
We already have several ideas for our gamification concept, our focus is always innovation and never stop innovating. In the next month or two, we will launch the second stage with better features: more interaction and entertaining concepts that we are developing. We want to hear what our customers like and keep improving the concept around them.
Finally, if you had to sum up Fantasino in three word which three words would you use?
Our slogan: A new concept
Check out the complete review of Fantasino in our Fantasino Casino Review and have your say in the comments section. A New Concept is what's promised for players, with a brand new casino site packed full of innovative features and an immersive game wrapped around traditional casino games.
Try Fantasino Casino today with a £100 Welcome Bonus plus 100 Free Spins on starburst and have your say on this brand new online casino website for March 2017.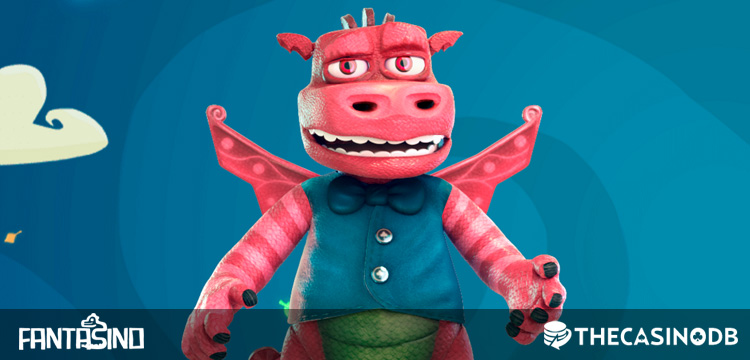 Interview with the Founders of the New Fantasino Casino at The Casino DB
15th March 2017
Fantasino Casino
EveryMatrix Ltd
Featured Casinos

Available for players in

Rest of World

300%

up to

€1000


+ 100

Spins

Available for players in Rest of World

100% up to 500€
+ 200 Spins


18+ Only. Terms Apply. BeGambleAware.

Available for players in Rest of World

100% up to €150
+ 25 Spins

30x Deposit & Bonus Amount. 30x Spins Winnings.
18+ Only. Terms Apply. BeGambleAware.

Available for players in Rest of World

Available for players in Rest of World

Available for players in Rest of World

200% up to £50
+ 25 Spins

40x Bonus Amount. 40x Spins Winnings.
18+ Only. Terms Apply. BeGambleAware.

Available for players in Rest of World

100% up to £100
+ 100 Spins

45x Bonus Amount. 45x Spins Winnings.
18+ Only. Terms Apply. BeGambleAware.

Available for players in Rest of World

100% up to £200
+ 200 Spins

40x Bonus Amount. 40x Spins Winnings.
18+ Only. Terms Apply. BeGambleAware.

Available for players in Rest of World

100% up to £300
+ 300 Spins

40x Bonus Amount. 40x Spins Winnings.
18+ Only. Terms Apply. BeGambleAware.

Available for players in Rest of World

100% up to £200
+ 100 Spins

40x Bonus Amount. 40x Spins Winnings.
18+ Only. Terms Apply. BeGambleAware.

Available for players in Rest of World

100% up to £200
+ 100 Spins

40x Bonus Amount. 40x Spins Winnings.
18+ Only. Terms Apply. BeGambleAware.

Available for players in Rest of World

200% up to £50

20x Deposit & Bonus Amount.
18+ Only. Terms Apply. BeGambleAware.

Available for players in Rest of World

100% up to £300
+ 300 Spins

40x Bonus Amount. 40x Spins Winnings.
18+ Only. Terms Apply. BeGambleAware.

Available for players in Rest of World

100% up to £200
+ 50 Spins

40x Deposit & Bonus Amount. 40x Spins Winnings.
18+ Only. Terms Apply. BeGambleAware.

Available for players in Rest of World

100% up to £100
+ 300 Spins

40x Deposit & Bonus Amount. 40x Spins Winnings.
18+ Only. Terms Apply. BeGambleAware.

Available for players in Rest of World

Available for players in Rest of World

Available for players in Rest of World