The Grand National is definitely one of the most popular horse racing events in the UK. Even people who do not normally watch or wager on horse races can be caught watching the Grand National and some of them even place a bet or two.
The Grand National is a handicap steeplechase race of the National Hunt format and it takes place at Aintree Racecourse, near Liverpool. The race is a long 4 miles 514 yards track and it has the largest prize fund for a jump race, not only in the UK, but in the whole of Europe. The prize fund in 2016 amounted to a staggering £1 million last year and the winner gained more than half that themselves.
The first Grand National was held in 1839 and it has been broadcasted live on TV in the UK since the 1960s. It is estimated that between 500 and 600 million people all over the world will watch the Grand National in 2017 making it one of the biggest if not the biggest racing events on the sporting calendar. The event always attracts the attention of horse racing punters and it is most definitely one of the top betting events in the UK. Many bookmakers offer special bonuses, promotions and deals for the Grand National and the odds are usually quite competitive as the bookies jostle with each other to attract new customers.
Aintree Race Winner Betting
The 2017 Grand National will be held on Saturday, April 8 and 40 runners will compete for the prize fund which this year, again, is a whopping £1 million. A tight race is expected, as no horse is considered top favourite. The odds for the top 10 horses are all pretty close.
Definitly Red and Vieux Lion Rouge are considered to have practically equal chances of winning the race and most bookies give each of these horses odds at either 10/1 or 11/1. At 888Sport for example, the odds for each of these horses are 11/1. Definitly Red is an 8yo Irish horse trained by Brian Ellison, whereas Vieux Lion Rouge is a French horse, also 8 years old, trained by David Pipe.
Cause of Causes comes third and the odds for this horse to win are 14/1 at 888Sport. Cause of Causes is the only USA based horse at this year's Grand National and it is trained by Irishman Gordon Elliot. More of That, is a 9yo Irish horse trained by Jonjo O'Neill with practically equal winning chances as Cause of Causes.
Nigel Twiston-Davies's 8yo Blaklion comes next and most bookies give this horse 14/1 odds. This is the best ranked British horse this year. One for Arthur is another Irish horse, trained by Lucinda Russell. The odds for it to win are also 14/1 at most bookmakers. That only shows how interesting this year's race will be.
Pleasant Company and The Last Samuri come next and while some bookies offer odds at 14 for each of these two horses, you may also find ones that rate their chances at 16/1. Pleasant Company is given 16/1 odds by Betfred.
You can get odds as high as 20/1 on Ucello Conti, Saphir du Rheu and The Young Master. The highest odds for Vincente, Rogue Angel and Highland Lodge are 25/1. The odds for the rest of the participants are significantly higher, reaching up to 150/1 on some horses.
Other Betting Markets
In addition to the win market, you can also bet whether a particular horse will finish in the top 4. The odds may vary, but you can expect odds as high as 7/2 on some of the favourites and higher odds for the lower rated horses. Some other UK bookmakers offer the market 'Irish Trained Winner', but the odds aren't too high as many of the favourites are Irish trained. Last but not least, you can also bet on the number horses that will finish the race. The offered selections include under 16, over 18 and between 16 and 18 inclusive.
Grand National 2017 Betting Offers
Betfred – Non-Runner No Bet
Betfred has a special offer for the Grand National – Non-Runner No Bet. So, if you place a bet on any horse to win, but in something happens in the meantime and your horse doesn't run at all, you will get your money back. The offer is only valid for real money bets, not for bets placed with bonus funds or tote bets.
888Sport – Money Back Faller Insurance
888Sport offers an insurance bonus on a number of races including the Grand National. Players who wager at least £5 are eligible to receive a bonus cashback if their horse falls, is brought down or unseats. The maximum bonus amount that can be received is £25 and the sum is rounded down to the nearest £5.
Win and each-way bets count towards the promotion, but only the win part of an each-way bet and the awarded free bet tokens expire in 7 days. Cashback is not offered if the horse doesn't run in the race at all and only teal money bets are considered.
Genting Bet – 15 Free Spins
Genting Bet offers its customers a very unique and interesting bonus offer. Every punter who bets at least £10 on the Grand National, both win bets and each-ways count, will receive 15 free spins on the desktop version of their slot game Champion Raceway, as long as the horse you've backed to win finishes the race, regardless of its position.
The free spins bonus will be awarded within 24 hours after that bet has been settled and you'll have 3 days to use the bonus. The free spins are worth 25p each. The winnings from the free spins are limited to £200.
ComeOn – Predict to Win at Aintree
ComeOn offers a slightly different promotion. This bookmaker encourages every punter to join them on Twitter and try to predict the winner of selected 9 races at Aintree, including the Grand National. A leader board will be set for that purpose and the punter who accurately predicts the highest number of races will win two tickets for the Epsom Derby at the Queen Stand, the second participant will receive £50 worth of free bet, and the third £30 in free bets.
BetBright £50 Free Bet
If all else feels there is always the fall back to classic Free Bet. This time its BetBright offering punters up to £50 back as a free bet when you register a new account with them. Place a bet of £10 or more on the 2017 Grand National at Aintree at odds of 1.66 or better and you'll get 50% refunded as a free bet if your runner doesn't come in. This offer is only open to new players but could serve quite well over the weekend.
More Sports Betting Offers
We've got hundreds more sports betting offers on including free bet offers and cashback deals from the likes of Matchbook. Check out our new uk sportbooks pages for the latest new bookies with free bets on offer to all new players.
Grand National 2017 Results
Check back this weekend for the latest results as they come in this Saturday 8th April 2017.
One For Arthur (14-1)
Cause of Causes (16-1)
Saint Are (25-1)
Blaklion (8-1f)
Gas Line Boy (50-1)
Vieux Lion Rouge (12-1)
Lord Windermere (33-1)
Regal Encore (33-1)
Pleasant Company (11-1)
Houblon Des Obeaux (50-1)
Ballynagour (66-1)
Le Mercurey (50-1)
Goodtoknow (66-1)
Just A Par (33-1
La Vaticane (80-1)
The Last Samuri (16-1)
Tenor Nivernais (40-1)
Roi Des Francs (50-1)
Wonderful Charm (25-1)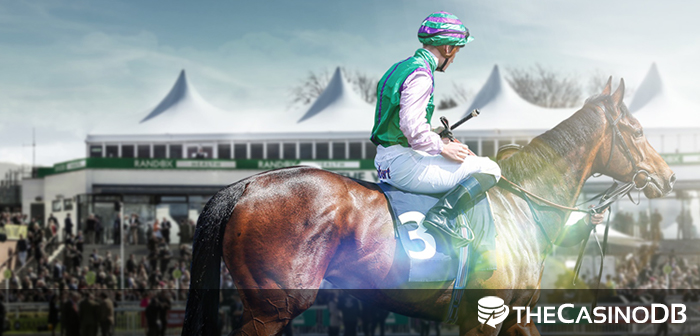 Grand National 2017 Runners Betting Preview Offers & Results
6th April 2017
888casino
Cassava Enterprises Ltd
ComeOn Casino
Co-Gaming Ltd.
Genting Casino
Genting Alderney Limited
Featured Casinos

Not available for players in United States

50 Spins

50x Spins Winnings.
18+ Only. Terms Apply. BeGambleAware.

Not available for players in United States

100% up to £300
+ 300 Spins

40x Bonus Amount. 40x Spins Winnings.
18+ Only. Terms Apply. BeGambleAware.

Not available for players in United States

Not available for players in United States

300% up to 1000€
+ 100 Spins

20x Deposit & Bonus Amount. 40x Spins Winnings.
18+ Only. Terms Apply. BeGambleAware.

Not available for players in United States

50 Spins

20x Spins Winnings.
18+ Only. Terms Apply. BeGambleAware.

Not available for players in United States

100% up to £100
+ 100 Spins

35x Deposit & Bonus Amount. 35x Spins Winnings.
18+ Only. Terms Apply. BeGambleAware.

Not available for players in United States

100% up to £300
+ 100 Spins

35x Deposit & Bonus Amount. 35x Spins Winnings.
18+ Only. Terms Apply. BeGambleAware.

Not available for players in United States

100% up to £300
+ 50 Spins

35x Bonus Amount. 35x Spins Winnings.
18+ Only. Terms Apply. BeGambleAware.

Not available for players in United States

100% up to £100
+ 300 Spins

40x Deposit & Bonus Amount. 40x Spins Winnings.
18+ Only. Terms Apply. BeGambleAware.

Not available for players in United States

Not available for players in United States

100% up to £800
+ 100 Spins

35x Bonus Amount. 35x Spins Winnings.
18+ Only. Terms Apply. BeGambleAware.

Not available for players in United States

Not available for players in United States

400% up to 800€

40x Deposit & Bonus Amount.
18+ Only. Terms Apply. BeGambleAware.

Not available for players in United States

400% up to 1500€
+ 150 Spins

40x Deposit & Bonus Amount. 20x Spins Winnings.
18+ Only. Terms Apply. BeGambleAware.

Not available for players in United States

100% up to £200
+ 100 Spins

40x Bonus Amount. 40x Spins Winnings.
18+ Only. Terms Apply. BeGambleAware.

Not available for players in United States

150% up to £100
+ 150 Spins

40x Bonus Amount. 60x Spins Winnings.
18+ Only. Terms Apply. BeGambleAware.

Not available for players in United States

100% up to £200
+ 200 Spins

40x Bonus Amount. 40x Spins Winnings.
18+ Only. Terms Apply. BeGambleAware.

Not available for players in United States

100% up to £200
+ 100 Spins

40x Bonus Amount. 40x Spins Winnings.
18+ Only. Terms Apply. BeGambleAware.

Not available for players in United States

100% up to £300
+ 300 Spins

40x Bonus Amount. 40x Spins Winnings.
18+ Only. Terms Apply. BeGambleAware.

Not available for players in United States

100% up to £200
+ 50 Spins

40x Deposit & Bonus Amount. 40x Spins Winnings.
18+ Only. Terms Apply. BeGambleAware.

Not available for players in United States

Not available for players in United States

Not available for players in United States