This weekend at both SpinIt Casino and Casino Cruise there's a massive €50,000 giveaway happening to help celebrate the birthdays of two of the most popular NetEnt online slots in Aloha! Cluster Pays and Spinata Grande slot.
Celebrating two successful years as a players favourite online slot Spinata Grande won an award for Game of the Year back in 2015 with its fun Mexican theme bringing back the sombrero for all. NetEnt are also celebrating the one year anniversary of Aloha! Cluster Pays which is a unique layout for an online slot that features 6 reels and 5 rows.
To mark the milestones of each of the online slots you can join Spinit Casino and Casino Cruise by taking part in a whopping €50,000 cash giveaway that will land one lucky winner a top prize of €10,000 plus a load of paid places with up to 1000 winning players to be drawn.
How it Works
In order to be in with a chance of winning a share of the €50k on offer you need to take part in the celebrations by playing on either the Aloha Slot or Spinata Grande slot at Spinit or Casino Cruise.
For each €10 or currency equivalent of real money gaming wagered on either of the two birthday slots you'll get 1 entry ticket into the prize draw with a maximum number of tickets per playing being capped at 50 per day. So start today and you'll have a few days to rack up as many tickets as possible.
On Monday 20th March 2017 a prize draw will be held and the winners of the promotion will be announced.
Paid Places
There'll be whopping 1000 players eligible to win a prize with the following prize money distribution:
1st: €10,000
2nd: €5,000
3rd: €2,500
4th-10th: €500
11th-50th: €200
51st-100th: €100
101st-200th: €50
201st-500th: €20
501st -1000th: €10
Winners will be selected from a combined pool run by network and the partners that have opted in including Spinit and Casino Cruise.
Remember if you're new to Spinit or Casino Cruise you can also take advantage of the €/£200 welcome bonuses on offer at each.
There are no wagering requirements for any of the prizes awarded in this competition so any cash allocated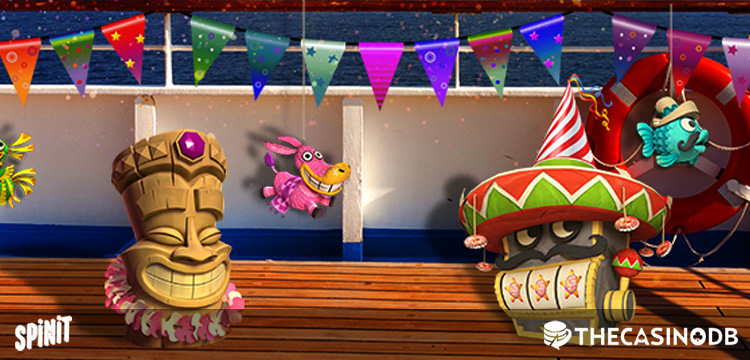 Celebrate NetEnt Aloha and Spinatas Birthdays with the Spinit and Casino Cruise €50,000 Giveaway!
17th March 2017
Casino Cruise
Genesis Global Limited
Spinit Casino
Genesis Global Limited
Featured Casinos

Not available for players in United States

50 Spins

50x Spins Winnings.
18+ Only. Terms Apply. BeGambleAware.

Not available for players in United States

100% up to £300
+ 300 Spins

40x Bonus Amount. 40x Spins Winnings.
18+ Only. Terms Apply. BeGambleAware.

Not available for players in United States

Not available for players in United States

300% up to 1000€
+ 100 Spins

20x Deposit & Bonus Amount. 40x Spins Winnings.
18+ Only. Terms Apply. BeGambleAware.

Not available for players in United States

50 Spins

20x Spins Winnings.
18+ Only. Terms Apply. BeGambleAware.

Not available for players in United States

100% up to £100
+ 100 Spins

35x Deposit & Bonus Amount. 35x Spins Winnings.
18+ Only. Terms Apply. BeGambleAware.

Not available for players in United States

100% up to £300
+ 100 Spins

35x Deposit & Bonus Amount. 35x Spins Winnings.
18+ Only. Terms Apply. BeGambleAware.

Not available for players in United States

100% up to £300
+ 50 Spins

35x Bonus Amount. 35x Spins Winnings.
18+ Only. Terms Apply. BeGambleAware.

Not available for players in United States

100% up to £100
+ 300 Spins

40x Deposit & Bonus Amount. 40x Spins Winnings.
18+ Only. Terms Apply. BeGambleAware.

Not available for players in United States

Not available for players in United States

100% up to £800
+ 100 Spins

35x Bonus Amount. 35x Spins Winnings.
18+ Only. Terms Apply. BeGambleAware.

Not available for players in United States

Not available for players in United States

400% up to 800€

40x Deposit & Bonus Amount.
18+ Only. Terms Apply. BeGambleAware.

Not available for players in United States

400% up to 1500€
+ 150 Spins

40x Deposit & Bonus Amount. 20x Spins Winnings.
18+ Only. Terms Apply. BeGambleAware.

Not available for players in United States

100% up to £200
+ 100 Spins

40x Bonus Amount. 40x Spins Winnings.
18+ Only. Terms Apply. BeGambleAware.

Not available for players in United States

150% up to £100
+ 150 Spins

40x Bonus Amount. 60x Spins Winnings.
18+ Only. Terms Apply. BeGambleAware.

Not available for players in United States

100% up to £200
+ 200 Spins

40x Bonus Amount. 40x Spins Winnings.
18+ Only. Terms Apply. BeGambleAware.

Not available for players in United States

100% up to £200
+ 100 Spins

40x Bonus Amount. 40x Spins Winnings.
18+ Only. Terms Apply. BeGambleAware.

Not available for players in United States

100% up to £300
+ 300 Spins

40x Bonus Amount. 40x Spins Winnings.
18+ Only. Terms Apply. BeGambleAware.

Not available for players in United States

100% up to £200
+ 50 Spins

40x Deposit & Bonus Amount. 40x Spins Winnings.
18+ Only. Terms Apply. BeGambleAware.

Not available for players in United States

Not available for players in United States

Not available for players in United States