Live European Roulette
Roulette is one of the most thrilling casino games. Although luck is needed there's a little skill involved, with a maximum payout of 35 to 1. The game consists of a wheel and a table. The wheel has pockets with numbers 1-36 plus zero and double zero depending on the type.
Once the wheel is spun the ball moves through the pockets before it finally stops in one of them. That number is the winning number. The players can bet on the individual number where the ball will land, but also on pairs or trios of numbers and even on combinations that cover up to half of the numbers. The house edge in standard European Roulette is 2.70%.
History of Roulette – From the Early Days up to Live Online Roulette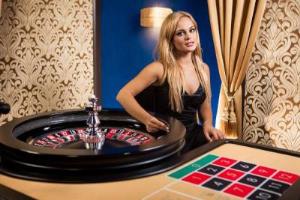 The history of Roulette, one of the most popular casino games nowadays begins way back, in the 18th century. Unfortunately, there is no precise information on how and when the modern version of Roulette appeared the first same. The word Roulette itself is French and it means little wheel. That is a clear indication that the game was developed in France.
The game was developed by combining a wheel produced by famous philosopher and mathematician Blaise Pascal with elements of a few popular games of the time. The game spread quickly throughout Europe and North America, particularly the French-speaking part of Canada.
The game has been played since its appearance throughout hundreds of casinos all over the world. When the first online casinos appeared towards the end of the last millennium, RNG Roulette games were among the first ones that they started offering. These games are software games based on Roulette. The random number generator (RNG) guarantees that the game's outcome will be entirely random, and in that sense, these games are as realistic as land-based Roulette.
Despite the fact that the principle is the same, there's no croupier in RNG games such as the popular 20p roulette game, there are no other players and some argue that the social element of the game is lost. But all that changed when casinos started offering live Roulette, where there's a croupier and other players participate as well. The croupier is filmed spinning the wheel in a studio designed just like a land-based casino and then the video is broadcast live through a stream.
Rules and Standard Bets
The rules of Roulette are quite simple. Players are supposed to place their wagers before the wheel starts spinning, regardless if it is a virtual wheel or one turned by a croupier. The main wager types in Roulette are inside and outside bets.
Inside bets are bets placed on individual numbers, on a couple of numbers, trios of numbers, fours of numbers,s and six numbers, whereas the outside bets are bets placed on a dozen or 18 numbers. A bet on an individual number pays 35 to 1, a bet on 2 numbers (that need to be adjacent on the table) pays 17 to 1, and a bet on 3 numbers (called a street) pays 11 to 1.
If you place a chip on the point where the borders of the squares of 4 numbers touch you are placing a bet on those four numbers and that bet has a payout of 8 to 1. Betting on 6 numbers pays 5 to 1. The outside bets are bets on either a dozen numbers or 18 numbers. You can bet on the first dozen (1-12), the second (13-24), and the third dozen (25-36). Betting on odd/even, red/black, or high/low (low is 1-18 and high is 19-36) pays 1 to 1.
Types of Roulette – European Roulette
At one point in history, the game differentiated into two main branches, European (sometimes called French, although there is a minor difference between the two) and American. American Roulette features two zeros, single (0) and double zero (00).
Due to the fact that having another zero increases the house edge from 2.70% to 5.40%, it is clear that European Roulette is far better than American Roulette. That is the reason why European Roulette is a lot more popular than American Roulette. Furthermore, the position of the numbers on the wheel is not the same as the double zero isn't just added to the wheel.
In European Roulette, in addition to the bets mentioned above, players can also make a range of other bets where the key criterion by which the numbers are combined together is their position on the wheel and not on the table. These bets are called classic bets or call bets because in the past the player had to call out the bet and then offer a chip, simply because there was no field with these bets on the table.
The list of bets available in European Roulette includes Neighbours of zero (17 numbers from 22 to 25 on the wheel), Thirds of the wheel (12 numbers placed opposite of the zero), Orphans (the numbers that are neither part of Neighbours of zero nor Thirds of the wheel. The Zero game is a bet on the zero and the numbers that are in its closest proximity.
French Roulette is a term that is often used synonymously with European Roulette, but it features one extra Rule – La Partage. Mini Roulette is another variant, where the wheel features only 12 games, hence the name mini. There are a few other non-standard variations, but classic European Roulette is definitely the most popular version.
Tips and Strategy
Roulette is a game of chance, the wagers you place and the decisions you make can influence the outcome of the game by very little. Still, there are certain rules that you should follow if you want to be more successful at Roulette.
Firstly, you should never place a large chunk of your bankroll on a single spin, it is best to divide the amount that you have planned to wager on one session and try not to wager more than 2%, a maximum of 3% of it on a single spin. Next, it is definitely wiser to play European Roulette, as opposed to American, as the house edge is lower.
You can employ one of the available progressive betting strategies if you like, like Martingale or Paroli, but you need to be very careful and make sure that you understand the risks that are involved. Wager on individual numbers, pairs, or combinations of three or four numbers if you prefer riskier bets, and stick to bets with 1-to-1 payouts if you are not keen on taking risks.
Roulette Has Always Been Popular in the UK
Roulette has always been popular in the UK, especially European Roulette. In fact, most land-based casinos in the country that offer Roulette offer this variety. Then RNG online Roulette appeared and most players who took their gaming online preferred the European variety. Recent statistics show that the popularity of live casinos is increasing steadily and it is hard to find a casino operator that doesn't offer Live European Roulette. Some casinos even offer games named Live UK Roulette or Live London Roulette which is basically live European Roulette with a UK-based croupier, or at least one who is a native English speaker.
Live Roulette Providers
All of the providers that offer live casino games include Roulette in their offer and European Roulette is the most commonly offered variety. These are the best live European providers which offer games that can be found at multiple UK operators.
Microgaming is one of the leading software providers in the world. In addition to a great number of RNG casino games, Microgaming also has a live offer which naturally includes Roulette. Microgaming's live platform allows players to play at multiple tables simultaneously and they can also browse statistical data while playing.
Evolution Gaming is a provider based in the Baltics with offices throughout Europe, including the UK which develops exclusively live games. Their standard Live European Roulette can be found at multiple casinos and in addition to standard features this game also allows the 'immersive view' options which present the game on a wider screen and HD technology.
Playtech, another major provider offers more than one version of live Roulette, played by standard European rules. Recently this provider introduced its newest Grand Roulette played by European rules, streamed live from their Latvian studio.
Mobile Live Roulette
The emergence of live Roulette and live casino games generally enabled players to enjoy an authentic and realistic casino experience without leaving their living rooms. The games are offered in high quality and with most new casino sites you won't need to download any software.
With the improvements in mobile technology that were introduced in the past years, live casino games including Live European Roulette became available on mobile devices – Android and iOS, but some mobile casino operators also support Windows phones. The games are available either in an instant play version and no download is required or there's a special mobile app that can be downloaded for free.