Live Blackjack
Blackjack is probably the most popular card game in the world. Here the player competes against the dealer. Multiple players may participate but each of them always plays against the dealer and not the other players.
They say that the goal of the game is to reach 21, but actually the goal is to beat the dealer. The player can beat the dealer if they have a combination that is higher than the dealer's combination without going over 21. The King, Queen and Jack are valued ten, the Ace has a value of either 1 or 11 and all other cards have their face value. The number of decks which is used may vary from one up to 8.
Popularity in the UK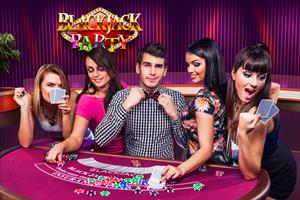 In 2005 the UK Gambling Act was passed and the Gambling Commission was formed and that period coincides with the rise of online casinos. Online casinos have been around since the late 1990s, but they achieve a greater degree of popularity towards the end of the first decade of the new century. Millions of Britons chose to start betting online in the courtesy of their own homes.
Live casino games took online casinos to another level and now land-based casinos have virtually no advantage over online ones. Most online casino operators that are licenced to work in the UK offer high-quality live games and the live variants of Blackjack are the most popular ones among them.
Live Blackjack Providers
Since there are dozens of solid online casinos that offer live casino games including live Blackjack, it is not surprising that there are numerous live casino providers that offer live casino games to UK casinos. These are the best live Blackjack providers.
Evolution Gaming provides its live Casino platform to a large number of UK casino sites. This software developer and operator is exclusively dedicated to live casino games which seems to have helped cement them as a leader in the market. The company is based in Latvia but it has offices throughout Europe, including the United Kingdom (London), Evolution operates over 100 tables and it offers fast-deal Blackjack.
Microgaming is another one of the leading casino software providers and it is hardly surprising that it is considered to be one of the leading live Blackjack operators as well although not so much in the UK market. Microgaming's Blackjack features the popular Bet Behind side bet and allows players to play multiple games at once. For UK customers Microgaming partnered up with Evolution placing more emphasis on their market leading position.
Playtech is another industry giant with a strong presence on the live Blackjack market. Playtech provides live dealer games 24/7 and is particularly praised for its live mobile offer.
Platform Support for Live Blackjack
In addition to playing on their desktop computers, new technology also enables players to play live Blackjack on their smartphones and tablets. The games are fully optimised the video is streamed in HD and players have the same options at their disposal, regardless whether they are playing live Blackjack on their computer or smartphone. Most providers offer live games that support Android and iOS devices, but some can even be played on Windows phones.
History and Origin of Blackjack
Blackjack originates from the 18th century, even though similar games have been played earlier in the past. Quinze, Ferme, Sette e Mezzo are some of the games that have been played in Europe and which have gameplay that resembles Blackjack. Popular Spanish game Trente-un (31) which has been mentioned in the works of Miguel Cervantes is perhaps the most popular predecessor of Blackjack.
Blackjack was initially called 21 or Vingt-et-Un, which is French for 21. The game in Britain was also called Pontoon, which is probably an English variant of Vingt-et-Un. Some casinos in Nevada introduced a rule where the pay-out for a combination consisted of the Ace of Spades and the Jack of Spades or the Jack of Clubs was 10 to 1. Since the spades and the clubs are black, hence the name Blackjack.
The Blackjack grew to be the most played card game in casinos all over the world. Multiple variations of the game appeared with altered rules that made the game more interesting. Fast forward to the late 1990s and the first version of online Blackjack appeared. Online Blackjack games were software variants adapted to mimic the actual game.
Then, several years ago, Live Blackjack games were introduced. These are games which feature a real dealer, but are played online over the internet. The dealer is filmed in an authentic Blackjack setup and recording is aired instantly, in real time via a live stream. Players choose their options from the game menu, but the dealer deals them actual cards. It is a much more realistic and exciting version compared to standard software-based online Blackjack.
Multi-Hand Blackjack vs. Single-Hand
Usually, players play one hand at a time, except in the cases when they split their hand into two hands and then they play both of them simultaneously. However, some variants allow players to play multiple hands at the same time. The basic game principle doesn't change depending on whether the game is single-hand or multi-hand, you are just able to play multiple hands at once. Multi-hand Blackjack allows players to earn larger amounts of money in shorter periods of time, but they also might lose more than they could if they were playing single-hand Blackjack.
Rules and How to Play the Game
The rules of Blackjack may be different depending on the variant in question, but the gameplay is always structured in the same way. The player is first dealt two cards and then the dealer deals two cards to themselves, one facing upwards. The player then decides what to do next, depending on their combination and the dealer's card.
Then the two main options are either to 'stand' (no further action, hoping that the two cards are sufficient to win the game), or 'hit' (be dealt an additional card). Some versions also allow the option of 'surrender', where the player receives half of the stake back, because they think that they have slim chances of winning. The option 'insurance' is available only when the dealer's card is an Ace. Then the player can place an extra bet half of the original wager which pays 2 to 1, when the dealer has Blackjack, thus saving half of the original wager.
'Double down' and 'split' are two other options which are offered in some versions and under specific circumstances. If the player chooses to double down, then they receive an extra card while doubling their wager. Splitting is possible when the player has two cards with the same face value. Some versions only allow players to split certain pairs, whereas in other version it is possible to split any pair. Re-splitting is permitted under some rules, but disallowed under other sets of rules.
If the player has a combination with a value of 21 after the first two cards are dealt than they win a game with Blackjack and the pay-out is 3 to 2 (in some cases 6 to 5). In all other cases the pay-out is 1 to 1.
Basic Tips and Strategies
Blackjack is a game where the way you play can considerably increase your chances of winning. By applying the basic Blackjack strategy a player can benefit from an optimal house edge depending on the specific rules and if they apply an advanced strategy players can get an even more favourable house edge.
In addition to specific strategies and in-play decisions regarding the game, there are some general tips which Blackjack players should follow. It is never wise to wager a high percentage of the total bankroll on just one hand. Moreover, insurance is not a wise bet, and players should never pay for insurance, statistically speaking, they'll lose more than if they would if they aren't taking insurance at all.
The Basic Blackjack Strategy includes instructions for every possible situation. It can be presented either as table or a set of written instructions. Players usually start by learning the most general statements, such as never split 5s and 10s. If you split 10s, you will lose a hand valued 20 which has a high probability of winning for two hands which are less likely to reach a value 20 and thus more likely to lose.
Then, another very useful tip is to never stand on a combination worth 12, 13, 14, 15 or 16 when the dealer's card is at least 7 or higher. The statistical odds of winning with such a hand are against you and it is wise to hit, despite the danger of going bust. The basic strategy is a detailed set of instructions and you can never go wrong if you follow it.
Bear in mind that nobody is stopping you from counting cards when you're playing live Blackjack, but know that the cards are shuffled often enough and before you can use the count to your advantage.