Experience a Samurai themed battle arena with the brand new netent slot called Warlords Crystals of Power and take advantage of our exclusive online casino bonuses and free spins.
With the dust settling from launch day on Thursday November 24th 2016 we recap an exciting week for online slots gamers that saw Netent release the brand new Warlords Crystals of Power Slot game across all of their online casino customers.
Warlords Crystals of Power Slot Review
If you've not yet had a chance check out our exclusive slot review of Warlords Crystals of Power and get the complete low down on whats on offer from this new online slot. This is a 5 Reel, 3 Row and 30 Fixed Payline online slot game thats been hotly anticipated by players around the world owing to its abundance of bonus features and one the best graphics engines available for an online slot game.
Some of the features you'll find making an appearance in this online slot are three different types of bonus free spins games, a Respin option plus wilds and scatter symbols. Aside from the bonus features you'll get the usual rich graphical and audio experience that we've come to expect from Netent's modern range of online slots.
Online Casino Bonuses and Free Spins
To celebrate the launch we've seen online casinos around the world diving in to offer players an incentive to try out this exciting new slot game. Here's a few from some of the online casinos listed here at TheCasinoDB, all of which you can track for free in your TCDb bonuses tracker when you register an account with us.
100 Free Spins on Warlords Crystals of Power Slot at Casino Room
Bonus Code: WCP100 for new players or WCP50 for existing players - more info.
We start out at Casino Room where Missions, Friends and Rewards can be found. This time the latter consists of 100 Free Spins to use on the brand new netent slot game for all new customers that register at the casino. This free spins bonus isn't just reserved for new players though as existing players can also take advantage of this bonus offer with 50 Free Spins on offer for existing players.
Find out more about this bonus and more in our exclusive Casino Room review.
40 Free Spins or 20 Mega Dega Spins on Warlords Slot from Cashmio
Bonus Code: Not required - more info.
Next on the list is Cashmio Casino - they are offerring all players the option to take 40 Free Spins or 20 Mega Dega Spins worth £1.00 per spin based on the amount you deposit. Make a deposit of £30 and you'll be eligble for 40 Free Spins on the new slot or make a deposit over £60 and you can take the larger size spins called Mega Dega Spins.
In addition to these reload bonuses on offer Cashmio are also running another of their famous online slot races where you can compete head to head in a Warlords Crystals of Power slot tournament against your fellow cashminions for the chance to win bigger prizes.
10 Free Spins on Every Deposit This Weekend at Jackpot Mobile Casino
Bonus Code: Not Required - more info.
Last but not least we have Jackpot Mobile Casino who are offerring all players the chance to grab a share of 150,000 Free Spins available on the new Warlords Crystal of Power slot in increments of 10.
Basically for every deposit you make of £10 which can be deposited via credit/debit card or directly from your mobile bill you'll also be entitled to 10 Free Spins to use on the new slot. Reuse this as many times as you like and rackup loads of free spins until the pot runs out.
All of these great offers expire by the end of this weekend so take your opportunity to explore this brand new slot and let us know what you think of this new installment from Netent.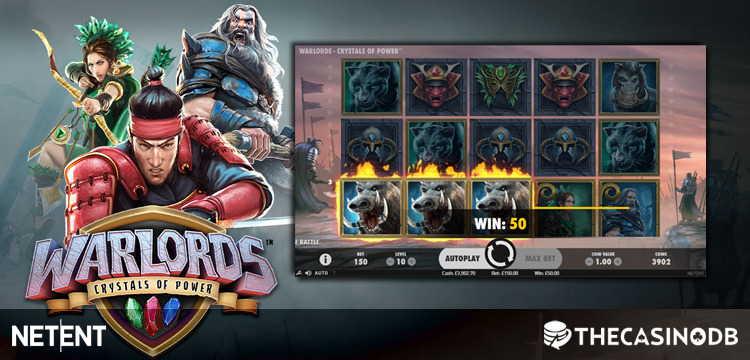 Netent Warlords Crystals of Power Slot Launch Bonuses and Free Spins at Selected Online Casinos
26th November 2016
Cashmio Casino
MT SecureTrade Limited
Casino Room
Ellmount Gaming
Jackpot Mobile Casino
Nektan
Featured Casinos

Not available for players in United States

50 Spins

50x Spins Winnings.
18+ Only. Terms Apply. BeGambleAware.

Not available for players in United States

100% up to £300
+ 300 Spins

40x Bonus Amount. 40x Spins Winnings.
18+ Only. Terms Apply. BeGambleAware.

Not available for players in United States

Not available for players in United States

300% up to 1000€
+ 100 Spins

20x Deposit & Bonus Amount. 40x Spins Winnings.
18+ Only. Terms Apply. BeGambleAware.

Not available for players in United States

50 Spins

20x Spins Winnings.
18+ Only. Terms Apply. BeGambleAware.

Not available for players in United States

100% up to £100
+ 100 Spins

35x Deposit & Bonus Amount. 35x Spins Winnings.
18+ Only. Terms Apply. BeGambleAware.

Not available for players in United States

100% up to £300
+ 100 Spins

35x Deposit & Bonus Amount. 35x Spins Winnings.
18+ Only. Terms Apply. BeGambleAware.

Not available for players in United States

100% up to £300
+ 50 Spins

35x Bonus Amount. 35x Spins Winnings.
18+ Only. Terms Apply. BeGambleAware.

Not available for players in United States

100% up to £100
+ 300 Spins

40x Deposit & Bonus Amount. 40x Spins Winnings.
18+ Only. Terms Apply. BeGambleAware.

Not available for players in United States

Not available for players in United States

100% up to £800
+ 100 Spins

35x Bonus Amount. 35x Spins Winnings.
18+ Only. Terms Apply. BeGambleAware.

Not available for players in United States

Not available for players in United States

400% up to 800€

40x Deposit & Bonus Amount.
18+ Only. Terms Apply. BeGambleAware.

Not available for players in United States

400% up to 1500€
+ 150 Spins

40x Deposit & Bonus Amount. 20x Spins Winnings.
18+ Only. Terms Apply. BeGambleAware.

Not available for players in United States

100% up to £200
+ 100 Spins

40x Bonus Amount. 40x Spins Winnings.
18+ Only. Terms Apply. BeGambleAware.

Not available for players in United States

150% up to £100
+ 150 Spins

40x Bonus Amount. 60x Spins Winnings.
18+ Only. Terms Apply. BeGambleAware.

Not available for players in United States

100% up to £200
+ 200 Spins

40x Bonus Amount. 40x Spins Winnings.
18+ Only. Terms Apply. BeGambleAware.

Not available for players in United States

100% up to £200
+ 100 Spins

40x Bonus Amount. 40x Spins Winnings.
18+ Only. Terms Apply. BeGambleAware.

Not available for players in United States

100% up to £300
+ 300 Spins

40x Bonus Amount. 40x Spins Winnings.
18+ Only. Terms Apply. BeGambleAware.

Not available for players in United States

100% up to £200
+ 50 Spins

40x Deposit & Bonus Amount. 40x Spins Winnings.
18+ Only. Terms Apply. BeGambleAware.

Not available for players in United States

Not available for players in United States

Not available for players in United States