Get yourself into the Christmas spirit this 2016 with the brand new Trada Casino Xmas Calendar packed full of holiday bonus treats
Trada Casino is hanging up stockings for you this Christmas season, and each one offers cash-filled goodies.
So how do you get your stockings? And what can you expect inside each one? Find out as we discuss Trada Casino's 25 days of Christmas.
How Do You Get Your Stockings?
First off, sign up at Trada Casino and choose one of the three available welcome bonuses that they offer. We recommend the 100% match bonus worth up to £/€/$100 + 50 free spins.
Once you've done this, you'll be eligible to get the stocking stuffers that Trada is offering right now.
Next, visit Trada's Christmas promotions section, where you'll see a row of stockings encased in tree bulbs. Click on each bulb to see what's inside the stocking – a.k.a. the daily promotion.
Just to give an example of what to expect, the stocking on December 4 offered 25 free spins if you wagered at least £/€/$100 on Fruit Shop Christmas slot.
In addition to showing you what promotion is available, you'll also see any terms and conditions behind the available bonus.
No Peaking Inside Your Stockings
We wish that we could tell you what else to expect from the future stockings at Trada Casino. But in the spirit of Christmas, they're keeping the contents of each stocking a secret until the day arrives.
That said, you'll want to visit Trada every day and check out what's inside each stocking. Each day leading up to Christmas offers a new bonus, which means there will be a new daily surprise waiting for you until Christmas Day.
Given that Trada Casino is one of the best at delivering free spins, cashback, reload bonuses, and other rewards, you'll be sure to have a very good holiday season by checking out the daily stockings here.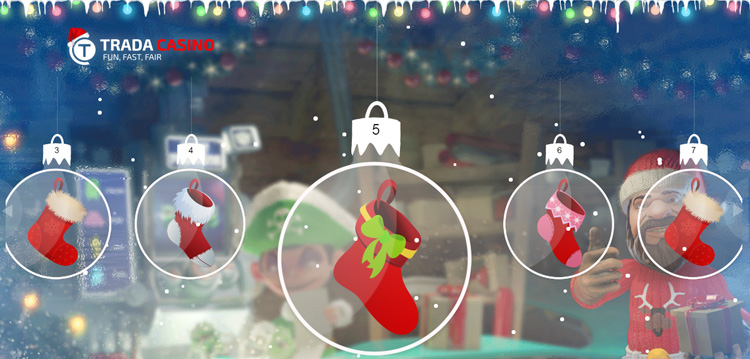 Check Your Stockings at Trada Casino This Christmas Season
6th December 2016
Trada Casino
TradaGames Limited
Featured Casinos

Available for players in

Rest of World

300%

up to

€1000


+ 100

Spins

Available for players in Rest of World

100% up to 500€
+ 200 Spins


18+ Only. Terms Apply. BeGambleAware.

Available for players in Rest of World

100% up to €150
+ 25 Spins

30x Deposit & Bonus Amount. 30x Spins Winnings.
18+ Only. Terms Apply. BeGambleAware.

Available for players in Rest of World

Available for players in Rest of World

Available for players in Rest of World

200% up to £50
+ 25 Spins

40x Bonus Amount. 40x Spins Winnings.
18+ Only. Terms Apply. BeGambleAware.

Available for players in Rest of World

100% up to £100
+ 100 Spins

45x Bonus Amount. 45x Spins Winnings.
18+ Only. Terms Apply. BeGambleAware.

Available for players in Rest of World

100% up to £200
+ 200 Spins

40x Bonus Amount. 40x Spins Winnings.
18+ Only. Terms Apply. BeGambleAware.

Available for players in Rest of World

100% up to £300
+ 300 Spins

40x Bonus Amount. 40x Spins Winnings.
18+ Only. Terms Apply. BeGambleAware.

Available for players in Rest of World

100% up to £200
+ 100 Spins

40x Bonus Amount. 40x Spins Winnings.
18+ Only. Terms Apply. BeGambleAware.

Available for players in Rest of World

100% up to £200
+ 100 Spins

40x Bonus Amount. 40x Spins Winnings.
18+ Only. Terms Apply. BeGambleAware.

Available for players in Rest of World

200% up to £50

20x Deposit & Bonus Amount.
18+ Only. Terms Apply. BeGambleAware.

Available for players in Rest of World

100% up to £300
+ 300 Spins

40x Bonus Amount. 40x Spins Winnings.
18+ Only. Terms Apply. BeGambleAware.

Available for players in Rest of World

100% up to £200
+ 50 Spins

40x Deposit & Bonus Amount. 40x Spins Winnings.
18+ Only. Terms Apply. BeGambleAware.

Available for players in Rest of World

100% up to £100
+ 300 Spins

40x Deposit & Bonus Amount. 40x Spins Winnings.
18+ Only. Terms Apply. BeGambleAware.

Available for players in Rest of World

Available for players in Rest of World

Available for players in Rest of World